-About Us-
Rent The Sofia!
The Sofia Center for the Arts is professional performing arts venue that offers comfortable seating and an intimate and inviting setting in our 386-seat Sutter Theatre, an intimate 85- seat Cabaret space as well as so much more. Excellent acoustics and sight lines, high production values, excellent amenities, helpful staff and affordable rental rates make the theatre an ideal venue for live performances and large assemblies. The Theatre is ideally suited to accommodate dance, ballet, live music, plays, comedy, meetings, lectures… virtually any popular entertainment event. The theatre has showcased the performances of world-renowned talents, as well as local community groups, bands, dance companies, choral groups, graduations and so much more. Parking is easily accessible in the adjacent parking structure. To schedule a tour or for more information, please contact: Rentals@bstreettheatre.org
Please fill out the below form and a representative will contact you shortly
Sutter Theatre
Capacity – 386
The Sutter Theatre
The perfect venue for live music, professional presentations, dance and corporate events.
Features
– Yamaha QL5 Console and a Biamp Tesira Server & Meyer Sound Galaxy Audio Processing – 8 Meyer MJF-210 Stage Monitors
– Meyer Sound Self Powered Loudspeaker UPQ-1P cabinets
– Subwoofer loudspeakers consist of (2) Meyer Sound 900LFC.
– Lighting Control console is ETC Ion Xe.
– ETC ColorSource Spot and Pars
– 2 1117C ALEX FOLLOW SPOTS
– Rear Projection Screen 50′-0″ x 21'6″
Stage Dimensions
– Proscenium opening is 44′-0″ wide x 18′-0" high
– Rough square footage of stage plus wing space is 2300 sq. feet.
– Audience floor to stage floor is 3′-0″
Rental includes
(1) assigned chorus dressing room
(1) basic pre-set stage lighting look Setup for two microphones Basic Sound Playback
(1) Lighting and Sound Technician
Use of Presenting Green Room
Gallery B
Gallery Space 75 seated – 131 Standing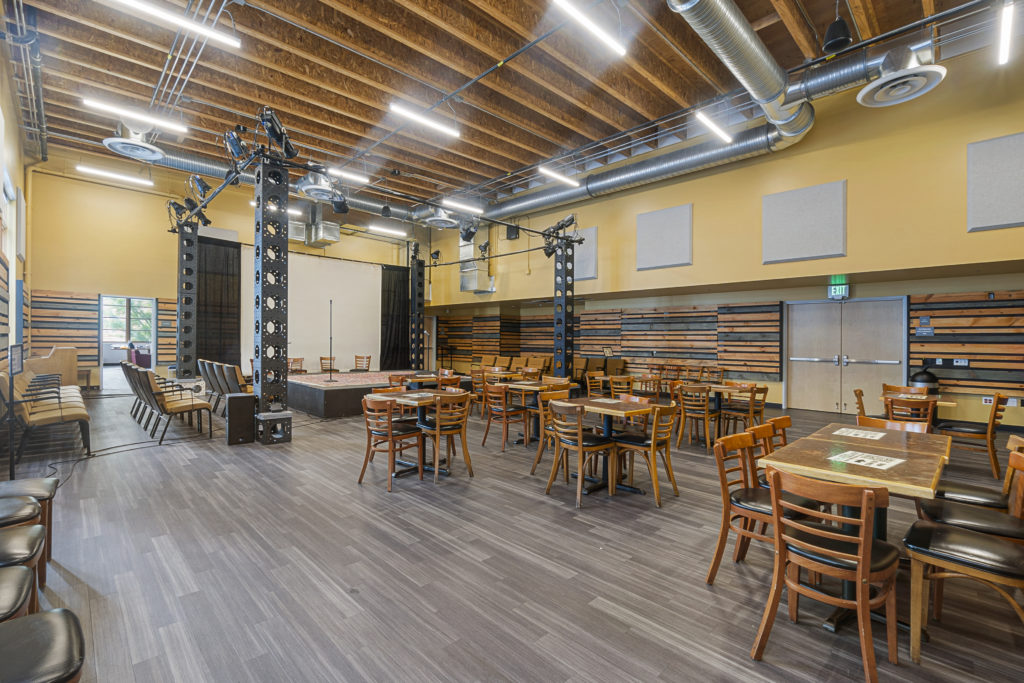 Our intimate low-key Cabaret or meeting space
Gallery B Rental:
Includes:
● Theatre Seating for up to 85 People
● Setup of a stage
● One basic pre-set stage lighting look
● Setup for two microphones
● Basic Sound Playback
● Use of Gallery C as a green room area
Gallery A
Gallery Space 50 seated – 106 Standing
Gallery A is our flexible space with and attached outdoor deck. It can be used for meetings, celebrations or just about anything you can think of that will fit.
Gallery A Rental Includes:
– Flexible Seating for up to 106 People
– Setup for two microphones
– Basic Sound Playback