Re-Imagine: A new Social Justice Series at B Street that amplifies the voices of black artists and other peoples of color. Our vision is to host theatrical experiences "By Us. For EVERYONE." to share the voices of those who have been unheard for far too long. You can catch compelling performances via Zoom highlighting Sacramento's most talented artists of color alongside their peers from across the nation. Join us on select Thursdays for play readings, poetry, music and so much more on Thursdays @ 7pm!
Make a dinner date of Reimagine with delicious Ethiopian cuisine from Queen Sheba! Call 916-446-1223 and ask for the Reimagine special every Thursday from 5pm – 9pm.
May 20 – A reading of The Hole
by Zhailon Levingston
Directed By Larry Powell
Starring Antwayn Hopper and Matthew Hancock
When the walls of prison rub up against the walls of identity, love can be a violent thing.
The Hole explores the relationship and personal struggles of two inmates in solitary confinement. A loose riff on Cat on a Hot Tin Roof, this play explores the illusions, memories, nightmares, dreams, and delusions of two inmates locked in "the hole."
April 29 – Interview With Nikkolas Smith
Artist/Activist
A conversation with Nikkolas Smith about his Children's Book My Hair Is Poofy And That's Ok, his other artwork and the impact it is making in Hollywood and Politics.
April 22 – Karaoke Night
with Terron Brooks
A night of Karaoke with Actor/Singer Terron Brooks. What songs inspired you to get through 2020 and make the most of 2021? Our audience picks the karaoke song and Terron takes a stab at it.
Terron Brooks is an American singer, songwriter, and actor. He is best known for his portrayal of R&B/pop singer Eddie Kendricks in the 1998 NBC miniseries The Temptations.
April 15 – A Reading of LONG DIVISION
by Aja Houston
Long division is hard. In Jo's world, dividing up years of marital memories with her ex-husband is even harder. When he sends someone to be his stand-in, Jo is forced to sift through intimate moments with a stranger, who challenges her to solve the problem of moving on.
Starring:
Geri-Nikole Love
David J. Cork
Karthik Srinivasan
Abby Eiland
STAGE DIRECTIONS – Cherish Monique Duke
April 8 – How far Have We Come?
A panel discussion with BIPOC artists reflecting on the past year and the changes that have been made in regards to American theatre and entertainment. Is it truly more inclusive or another broken promise?
Featuring:
Cody Renard Richard
Rochelle
Riley
April 1 – A reading of BirdMocking
by Anthony D'Juan
Join us for a workshop reading of a new play by Sacramento's Anthony D'Juan. "Birdmocking" is an original retelling of the classic "To Kill a Mockingbird" by Harper Lee. We now get to experience the story from the perspective of Tom Robinson.
Starring:
Rob Robinson
Tiffany Oglesby
Brooklyn Solomon
Telvin Griffin
John Lamb
Kristine David
March 25 – 3: Black Girl Blues
by: Danielle Moné Truitt and Anthony Djuan
3: Black Girl Blues This exciting play is a tale of three close friends – Keisha, Jill and Stephanie – who grew up together and now at thirty years old are confronted with facing their demons. Keisha, an urban socialite, has her life crushed when she realizes her long-term boyfriend has had a child with another woman. Jill, a housewife in denial, admits to her husband's betrayal. Stephanie, an executive in the upper echelon world, has to face the core of her mental illness. 3: BLACK GIRL BLUES meditates on the ways we choose to present ourselves and the forces that cause us to come clean.
March 18 – Short films and Black Trivia!
Join us for a showing of short films "Tam and Kev" by Tamberla Perry and Kevin Douglas, plus the return of Black Trivia!
March 11 – Reading of The Patriot's Place
by Brittani Samuels
A Patriot's Place is the story of a Black mother trying her hardest to hold up her life and hold on to the Black men that fill it up. Traumatized by an incident that took place over fifteen years ago, Nasila still has trouble relinquishing control. After receiving a haunting letter from a stranger and a momentous ultimatum from her son's father, Nasila has to decide whether she is going to dwell in the pain of the past or look towards a new kind of future.
March 4 – Underground Vibes
featuring The ladies of Blue Prynt
Underground Vibes is a new concert series in Sacramento, bringing you the best vocalist and musicians Sacramento has to offer. Join us for a night of soul moving and inspiring music by The Ladies Of Blue Prynt.
The Ladies Of Blue Prynt:
Melanie Owens
Ciara Gordon
Camille Williams
Underground Vibes Producer:
Melanie Owens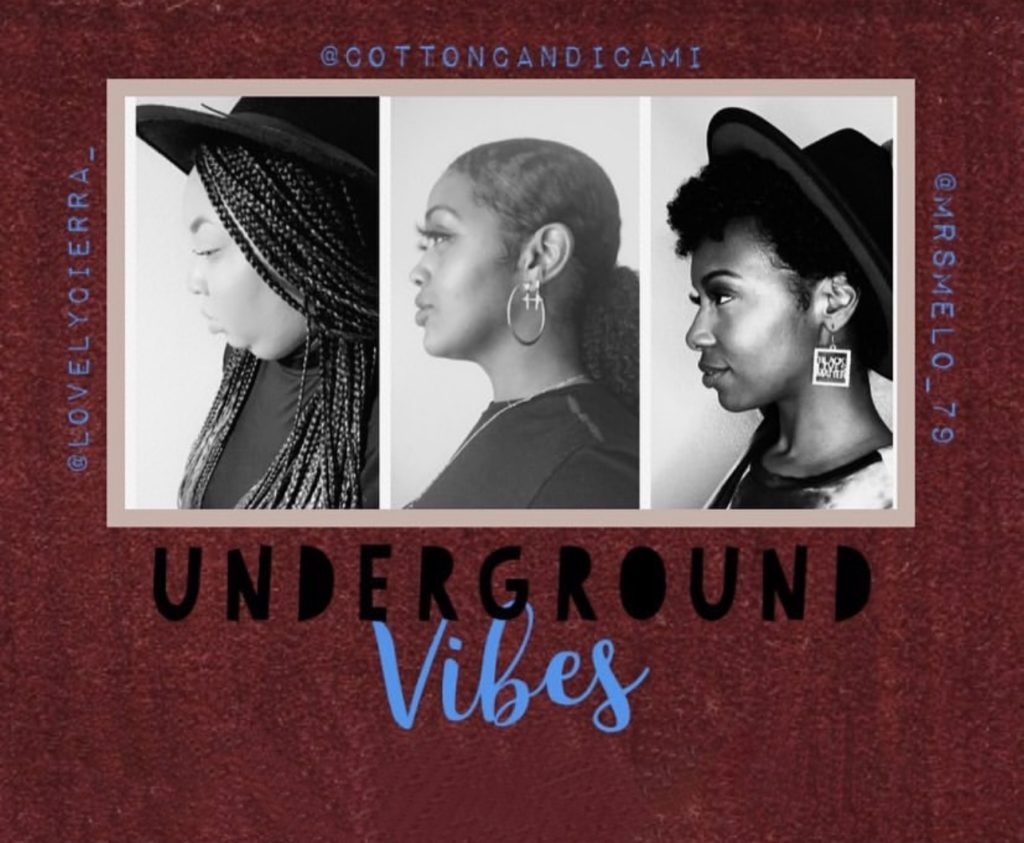 February 25 – Reading of WHITE ROOM
by Kevin Neighbors
An African America father arrives early at a preschool to pick up his son after an incident with another child. When he arrives a mysterious women from an unknown organization refuses to let him see his son and begins asking prodding questions about him and his family.
Starring:
Jordan Rawlings
Roderick Hickman
Monique Crawford
February 18 – Reading of THE LIGHT
by Loy Webb
Starring Tiffany Oglesby and Rob Karma
A surprise proposal takes an unexpected turn that upends the world of Genesis and Rashad, forcing them to confront a devastating secret from the past and putting the future of their relationship at risk.
*There is sensitive subject matter within.*
February 11 – Reading of NIGHT CAP
A play by Larry Powell
Sonny, an openly black, queer rising recording artist and activist, persuades an older, straight, formerly incarcerated, and failed musician Duke to come over to his recently deceased Mother's apartment for a nightcap. Duke really only wants a nightcap, but Sonny wants so much more. One resists while the other insists on crossing the line. What Sonny doesn't know is that crossing this line will forever change the trajectory of his soul path.
About the playwright:
Larry Powell is a faculty member at the USC School of Dramatic Arts, teaching in the MFA Acting program. He is a writer, actor, director and producer born and raised in South Central L.A. He is a two-time Ovation Award nominee, three-time NAACP Theatre Award nominee, San Francisco Bay Area Theatre Award nominee, two-time LA Drama Critics Circle Award winner, as well as an Audelco and Audie Award nominee.
February 4 – A Night Of August Wilson
Join us for a night of August Wilson Monologues performed by talented actors from the stage, film and television. August Wilson was on of the greats of American Theatre and his legacy lives on!
Featuring:
Francois Battiste
Tiffany Oglesby
Telvin Griffin
Jasmine Shanise Gammon
Heather Gibson
January 28 – CSUS Student Actor Showcase
Featuring the talents of Sacramento's rising stars working with professional actors and our host Danielle Moné Truitt on improving their skills and finding success in the business.
January 21 – Spoken Word Night
Words of power, love and hope reflecting the state of our nation and our new administration.
Featuring:
Akil Jackson
Lem Gonsalves
Natasha Simmons
Larry Powell
January 14 – Dear Black Girl
by Tamara Winfrey-Harris
A conversation with Author Tamara Winfrey-Harris about her upcoming book entitled DEAR BLACK GIRL: Letters From Your Sisters On Stepping Into Your Power. And theatrical readings of some of the letters by TV and Theatre Actors Tamberla Perry, Danielle Moné Truitt, and Tiffany Oglesby.
January 7 – Sol Affirmations
With Karega and Felicia Bailey
After the loss of their Baby Girl, Karega and Felicia Bailey have embraced a beautiful journey of deep love and soul searching. It has inspired their art in a profound way. Join us for a night of music, concert and affirmations for the soul.
December 28 – Arts Showcase
Presented by Eta Gamma Omega Chapter of Alpha Kappa Alpha Sorority, Incorporated featuring a virtual arts showcase of Twenty Twenty Trials, Tribulations and Triumphs.
An evening of spoken word, poetry, music by the talented Archalene Amos Martin and hosted by Howard University, Musical Theatre senior, Lauryn Giles.
December 17 – Christmas Music and Memories
Join us for a christmas celebration on re-imagine featuring music and memories from Danielle and her guests. Featuring:
Rogelio Douglas Jr
Melanie Owens and Blueprynt
Kristolyn Lloyd
Bryonha Marie Parham
Danielle Moné Truitt
December 10 – Movie Night
Screening of short films by up and coming Black Film Makers
Featuring short film screening:
VIRAL by Kevin Welbeck
PALMS by Kenna Wright
THE TRAVELER by Jeremy Earl
VIRAL
Quincy has been finding it difficult to cope with the death of his younger brother, who was wrongfully shot and killed by a police officer. When the officer is acquitted of all charges, he loses the little hope he had left in the justice system and in himself. As Quincy is pushed to face his emotions and navigate his new reality, he is presented with an opportunity to take matters into his own hands to give his brother the justice he deserves.
PALMS
"My inspiration for this short film was crafted from my interest in how children observe the world and the moment in life when they discover each one of them is unique and different. As young children, this uniqueness is not evident until we are exposed to comparisons and differences. My fascination as a director was to explore the inner workings of the mind of an African American girl in today's climate and the importance of how the surroundings of our childhood effect who we become as human beings. My name is Kenna Wright and I am the director, writer and producer of the short film, Palms."
THE TRAVELER
How do the smallest of hands repeatedly end up wrapped around guns? Narrated through the unapologetic voice of a Gun, "The Traveler" shows a gritty glimpse into the "How".
December 3 – Scotty Grand
An intimate night of music
The infectious Scotty Grand is as exceptional as they come. Raised in the most famous music city in America, New Orleans, Grand began his music journey very early in life, at the age of 5. As he continued to mature adulthood— under the shadow of his famous NBA brother— his family forced upon him the generic stereotyped lifestyle of sports and women, of which he chose to break out of by embracing his true self…a prolific gay showman! Grand continues to break boundaries and create standards, setting the music world ablaze, with his unmatched vocal range and his entertaining stage antics. Once he smiles and shows off those pearly whites, all gentlemen and ladies can't help but be mesmerized! Grand has acted as Creative Director/Keyboardist/MC for Grammy Nominated acts, such as Jordin Sparks, DNCE, Britney Spears, The Jonas Brothers, NE-YO, and fellow pianist Alicia Keys. This has provided him with priceless years of experience, allowing him to continue to flourish. With fiery inspiration coursing through his veins and the launch of his new solo career, we will see how OUT Scotty Grand can go.
November 19 – Three Ten Minute Plays About Now
Three Ten Minute Plays About Now
by Kevin Douglas
Cautiously Optimistic
In a time where fears are high and misinformation is even higher, Cautiously Optimistic examines the consequences of not taking the pandemic seriously.
Chickens Be Roostin'
On the eve of the 2020 election, two vigilantes discover they have differing perspectives on a path forward.
Thaddeus and Slocum: A Vaudeville Adventure*
A vaudeville team in 1908 Chicago are trying to make it into the big time; the problem is, one's white and one's black, and that just won't cut it in segregated Chicago and segregated America. So they come up with, shall we say, an interesting solution to their dilemma.
*This a scene from the full length play.
November 12 – Deep Azure Act 2
Performances from the script and a talk back with the cast!
Deep Azure
by Chadwick Boseman
Before the Black Panther star became a Hollywood icon, he was a playwright on the rise. Hear and explore his best known work Deep Azure on this weeks re-imagine.
Featuring: Christina McDowelle, Bryce Lewis, LeShay Tomlinson, Theo Perkins, Stevem St. Pierre, Rich Pierre Louie and Shelli Boones.
November 5 – VERSATILE
Stories from inside the closet of a half black gay man.
VERSATILE
by Kevin Neighbors
The play navigates the topics of (mixed) Black identity, systemic racism as it pertains to foster care, the education system, and police brutality.
Performances from the script and a talk back with the cast!
Deep Azure
by Chadwick Bozeman
Before the Black Panther star became a Hollywood icon, he was a playwright on the rise. Hear and explore his best known work Deep Azure on this weeks re-imagine.
Featuring: Christina McDowelle, Bryce Lewis, LeShay Tomlinson, Theo Perkins, Stevem St. Pierre, Rich Pierre Louie and Shelli Boones.
October 22 – Black Movie Trivia Night
A night of Trivia and Scenes from black movies performed via Zoom by Black Actors.
Featuring:
Tiffany Oglesby
Maurice Whitfield
Rob Karma
Tamberla Perry
Telvin Griffin
Danielle Moné Truitt
October 13 – Austin Dean Presents: (I)sland T(rap)
A hip-hop riff about Black Ulysses on an Odyssey of self-discovery and a powerful exploration of a young artist of color navigating the turbulent waters of contemporary American culture while trying to find his authentic voice. (I)sland T(rap) has lyrical poetry, live music, and commentary on Black experience in America, this tour-de-force charts a soul journey on an exotic island where Black Ulysses discovers his place in a society full of gun violence and oppression.
October 6 – Black Greek Night
The Legacy of Stepping
A dive into the rich history of Black Fraternities & Sororities featuring their Divine 9 members and the art form of stepping.
Featuring Vernon Jackson, Joe Brown and The Sacramento NPHC(National Panhellenic Council).
Participating in our democracy is a cornerstone of any social justice movement. In that spirit we would ask you to watch the Presidential Debate this coming Tuesday, September 29 as we will be doing. We will be seeing you the week following for our continued series of Re-Imagine.
September 22 – Poetry and Music Night
Featuring:
Harley White- Jazz From A To Z
Wallette- Recording Artist
Lem Gonsalves- Poet
Treesje Powers- Poet
Maiya Sykes- Singer
September 15 – Broadway Black Girl Magic
A celebration and spotlight on Black Broadway Actresses. Featuring:
Joanna Alexis Jones, Brittney Johnson and Kristolyn Lloyd
Joanna Jones received her Bachelor's Degree in theater at the University of California, Los Angeles in 2012. Since then she has performed in numerous shows both within the US and abroad. Most recently she made her Broadway debut in the musical Hamilton where she played Peggy Schuyler and Maria Reynolds from 2017-2019. Other notable credits include School Girls; Or, the African Mean Girls Play (By Jocelyn Bioh), Kiss Me Kate (Pasadena Playhouse), Hair (Hollywood Bowl), Baz: Star Crossed Love (Palazzo Vegas), Showboat (Sacramento Music Circus), Caroline, or Change (PCPA), Thriller Live (lLondon, West End), NBC's Hairspray Live! Joanna is currently scheduled to play Eliza Hamilton in the run of Hamilton at The Pantages in Hollywood. In the meantime, she records her own music under two different projects "Why Mona" and "Joanna Jones as The Dame" both available anywhere music is streamed.
Brittney Johnson is an accomplished Broadway actor. Most recently she made Broadway History by becoming the first woman of color to play Glinda in Wicked on Broadway. Other Broadway credits include Les Miserables (Eponine), Motown the Musical (u/s Diana Ross), Beautiful: The Carole King Musical (Little Eva), Sunset Boulevard, and Kristin Chenoweth: For The Girls. Brittney is also a sought after Audition and Vocal Performance Coach. She translates her experience in the industry into classes and workshops to better prepare students and industry professionals for their auditions. It is her goal and desire to spread joy and encourage empathy through her artistry and outreach.
Kristolyn Lloyd is a Grammy and Emmy Winner. Broadway; Dear Evan Hansen. Off Broadway; Little Women (Primary Stages), Blue Ridge (Atlantic) Paradise Blue, The Liquid Plain (Signature Theatre) Invisible Thread (Second Stage Theatre), Heathers The Musical (New World Stages), Cabin In The Sky (Encores City Center), Selected Regional; Paradise Blue (Williamstown), Witness Uganda (A.R.T.), Hairspray, Rent (Hollywood Bowl). TV includes: "Random Acts of Flyness" (HBO), Elementary, Madam Secretary" (CBS), "ER" (NBC) and "Lie to Me." (FOX). @kristolynlloyd Instagram and Twitter.
September 8 – Black Movie Trivia Night
-Featuring a screening of the short film Junebug, ABFF selection.
-Talkback with Actors, Producer, Writer and Director.
-Black Movie Trivia.
September 1 – Theatre Poetry and Hip Hop
Featuring: Bay Area Theatre Cypher
Bay Area Theatre Cypher is where Hip Hop Meets Theatre
Anyone concerned about the future of hip hop in theatre can look past the recent closing of Chicago's Hamilton to the Bay Area, where Brecht is inspiring nascent rap stars and a new company is lifting up artists at the intersection of hip hop and theatre.
The Bay Area Theatre Cypher, birthed last fall through a viral video, just closed an acclaimed show at Aurora Theatre and shows no signs of slowing down in 2020.
The seeds for the group were sown when Phillip Wong, an Oakland-based actor and musician, got cast last summer in California Shakespeare Theatre's production of Bertolt Brecht's The Good Person of Szechwan. Wong had been secretly writing hip-hop rhymes since college but it wasn't until he donned the larger-than-life costumes and heightened makeup of his characters in the show that he felt inspired enough to film his flow and share it with the world.
"We were wearing these really dope costumes and all this Brechtian make up, these giant Peking opera feathers and I was like, 'I feel so fly I gotta make a video.'" he says.
Wong's castmates provided the beats, back-up dancing, and iPhone filmography as he rapped about working his way up through the Bay Area theatre scene and doing his first show at Cal Shakes.
August 25 – Black Biz Spotlight
Last Supper Society

Queen Sheeba

Danielle Moné Truitt
Dawan Owens

Marcus Henderson

Harley White
Last Supper Society and Queen Sheba talk Black Cuisine with Host Danielle Moné Truitt as we highlight Black Businesses. Special performances by Dawan Ownes, Marcus Henderson and Harley White.
August 18 – Virtual Reading of Katori Hall's THE MOUNTAINTOP
Vernon Lewis

Francois Battiste

Danielle Moné Truitt
THE MOUNTAINTOP
by Katori Hall
A gripping reimagination of events the night before the assassination of the civil rights leader Dr. Martin Luther King, Jr. On April 3, 1968, after delivering one of his most memorable speeches, an exhausted Dr. King retires to his room at the Lorraine Motel while a storm rages outside. When a mysterious stranger arrives with some surprising news, King is forced to confront his destiny and his legacy to his people.
BASI VIBE doesn't just create music, he creates a feeling, a whole mood with his masterful storytelling via musical composition
BASI VIBE is an independent Neo-Soul / R&B artist that draws most of his inspiration from his culture-rich hometown, Sacramento. With a smooth voice to deliver his infectious words, one can be easily charmed by what his mind has to say. Upbeat or slow, BASI emits the essence of soul.
August 4 – A Celebration Highlighting Sacramento Black Theatre
Sene Goss

Reign Morton

Harley White

Tory Scroggins

Brendan Jackson
Jazz A – Z with Harley White Jr.: this week B is for Billie.
Tribute to Lisa Lacy (founder of Images Theatre Company), Celebration Arts, Sons And Ancestors, S/BAD and more.
Featuring:
Brendan Jackson – Dancer/Choreographer
Harley White – Pulitzer Prize nominated musician and composer
Reign Morton – Singer, Actor and activist
Sené Goss – Musician and model
Tory Scroggins – Actor
July 28 – Storytell(Her)s: Black Female voices amplified!
Heather Gibson

Savannah Ward

Tiffany Oglesby

Danielle Moné Truitt

Tabitha Christopher
Featuring:
Savannah Ward
Danielle Moné Truitt
Heather Gibson
Tiffany Oglesby
Tabitha Christopher
July 21 – Music. Poetry. Art. Inspiration.
Featuring:
Harley White- Musician (Jazz From A-Z)
Noah Hayes- Poet
Sol Development- Music Group
Austin Ashford- Actor Poet Musician
Nicole Clay- Poet
July 14 – "this is how it happened"
a play by Anthony D'juan
It's not what happened. It's HOW it happened
Officer James "Jay" Shultz killed an unarmed Black man and the city is in an outrage. In the immediate aftermath his job and his friendships are in peril. And when we meet the spin doctor assigned to him, the truth is also in peril.
Age rec: 15 years and older
About the Playwright of "this is how it happened"
Anthony D'Juan is a Sacramento based writer/director who has been active since 1996. His writing credits for the stage include The Irony Effect, MEN IN RIFFS, theory of the dream, Safe At Home: The Jackie Robinson Story, Keeping the Dream Alive, Suburban Snow Fall, And the Dream Goes On!, Night Jobs for Men, Bailey, Potential Literature, Negro Folklore, Who We Are and the acclaimed one-woman show 3: BLACK GIRL BLUES.
He is also the author of the novels Deconstructed and Arranged Failure.
The cast of "this is how it happened"
Danielle Moné Truitt

Peter Story

Larry Bates

Kevin Neighbors